Has your home or business recently been damaged by fire or water? Are you thinking about a remodeling project that requires razing a few walls? Do you need to remove asbestos from a residential or commercial property? If you answered "yes" to any of these questions, then it's time to get in touch with Undaunted Restoration Inc., your one-stop resource for worry-free interior demolition in New York City and beyond. In addition to being a full-service mold remediation company, we're also an environmentally friendly demolition contractor. Call us today for all the details!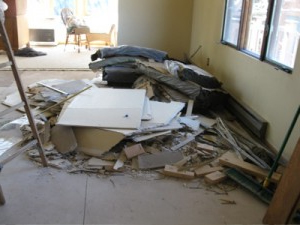 Major renovation plans often involve tearing out walls in order to allow for more space, rearrange a layout, or dispose of damaged building materials. But knocking out existing walls can be a messy job, disbursing clouds of hazardous contaminants into your indoor air. So whether you're looking to remodel an area of your home, contend with the presence of asbestos in your place of business, or bounce back after a harmful fire or flood, look no further than Undaunted Restoration for the demolition services you need in and around NYC. We've been watching out for the health and well-being of property owners since 2004, and we'll make sure you're protected before, during, and after the dust has settled.
With Undaunted Restoration as your demolition company, you can avoid such potentially harmful renovation consequences as undetected mold growth, exposure to asbestos fibers, and even damage to surrounding walls and furnishings. Our licensed and insured demolition contractors are as diligent about taking down walls as they are at using nothing but eco-smart, plant-based technologies for mold removal. You can count on us to proceed with extreme caution from the first step of your interior demolition to the final phase of your project.
Wherever you are in the Tri-State area, Undaunted Restoration is only a phone call away to help. Contact our qualified demolition company today for whatever area of your building you happen to be remodeling, including:
Kitchens
Offices
Bathrooms
Ceilings
Bedrooms
Basements
Garages
And more
Unlike other demolition contractors, we're trained in the intricacies of mold remediation and indoor air quality maintenance. That means we know what to watch for in building materials that are old, harboring harsh pollutants, or just plain unhealthy for your home or business property. So don't take chances with the demolition company you choose. For the meticulous removal of walls without detrimental aftereffects, don't hesitate to contact Undaunted Restoration. Simply reach us today by phone or contact us by e-mail for a free, no-obligation estimate on demolition services.